Recently Communicated Cases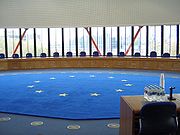 Religious Community of Jehovah Witnesses v Azerbaijan (No. 52884/09) - Communicated 23 March 2017. The refusal by the State Committee for Work and Religious Associations to allow import of specific literature that contained content hostile to other (mostly Christian) religions was upheld on appeal. The applicant community complains that domestic authorities refusal to allow the import of religious literature constituted unlawful interference, under Articles 9 and 10, with its right to freedom of religion and freedom of expression.
Gabunia and Other v. Georgia (No. 37276/05) - Communicated 14 March 2017. Applicants complain that thier right to freely practice their religion under Article 9 in conjuction with Article 14, because, inter alia, their religious meetings were violently disrupted.
Kolyasnikov v. Russia (No. 39776/15) - Communicated 23 February 2017. The application concerns the applicant's prosecution for holding a Bible-reading meeting in a cafe without prior notification to authorities. The Court has already found that the requirement of notification had no basis in Russian law and was not necessary in a democratic society. (see Krupko and Others v. Russia, no. 26587/07 §§ 54-57, 26 June 2014).
Pakiela v. Poland (No. 74683/13) - Communicated 22 February 2017. Prisoner in Poland complains of being fed meat products despite his requests for a vegetarian diet per his religioius dietary requirements. The Court questions whether the State's failure to conform with the prisoner's convictions constitute an "interference" with the applicant's freedom of religion within the meaning of Article 9 of the Convention.
Kamran Mirazayev v. Azerbaijan (No. 41792/15) - Communicated 9 February 2017. Applicant is an Azerbaijani national and Jehovah Wintess convicted of refusing military service. His cassation appeal was dismissed by the Supreme Court because relevant leglislation had not yet been passed and alternatives to service only appied when the nation was not at war. The Court questions whether there has been an interference with the appiicant's freedom of thought, conscience, or religion, whintin the meaning of Article 9 §1 of the Convention, on account of the applicant's criminal conviction for refususing to perform his miitary service? If so, was that intereference prescribed by law and necessary in terms of Article 9 §2.
Simonyan and "Word of Life" Church v. Armenia (no. 30817/13) - Communicated 26 January 2017. Media accusations labeled the church a "sect" which the church believes was discriminatory and breached the State's duty of impartiality an neutrality in religious matters.
Krishna Consciousness Societies in Russa and Frolov v. Russia (no. 37477/11) - Communicated 23 January 2017. A Krishna Center complains that information disseminated by public authorities in their "Beware of Sects" program incited enmity and hatred on the grounds of religious belief.
Guven v. Turkey (no. 47713/12) - Communicated 18 January 2017. Signed petitions in support of the founder of PKK found in possession of the applicant were held to be propoganda in violation of the Prevention of Terrorism Act. Complaint claims a violation of freedom of thought and expression.
Yamac v. Turkey (no. 5642/13) - Communicated 18 January 2017. Applicant is a Turkish national arrested for disseminating propoganda about the PKK because of comments made at the funeral of a PKK militant. Complaint is a violation of freedom of expression.
Taran v. Russia (no. 11327/10) - Communicated 2 May 2016. Old Believer accused of crimes, remanded in custody, and forcibly shaved off by prinson officer, complains that the decision to remand lacked sufficient reason, that his Convention rights were violated when prison officials forcibly shaved the beard required by his faith.
Hamidović v. Bosnia and Herzegovina (no. 57792/15) - Communicated 24 March 2016. Adherent of Wahhabi/Salafi version of Islam called to testify in court alleges violation of Convention rights in punishment for refusing to remove his cap (symbol of his religion) in the courtroom.
Pingen v. Germany (no. 11344/16) and Tlpak v. Germany (no. 11308/16) - Communicated 16 March 2016. Applicant members of the Twelve Tribes church (Zwölf Stämme) complain, mainly under Article 8, about decisions of the domestic courts regarding custody of their children.
Aydan and Others v. Armenia (no. 75604/11) - Communicated 29 February 2016. Four Jehovah's Witnesses complain of detention following their objection to the fact that the presecribed alternative to military service was still under supervision of the military.
Stern Taulats and Roura Capellera v. Spain (no. 51168/15) - Communicated 22 February 2016. The applicants were convicted of criminal insult to the Crown, when, during a demonstration in connection with a visit of the King of Spain, with their faces covered, thye set fire to an actual-size photograph of the royal couple, in a public square. Sentenced to fifteen months' imprisonment (later replaced by a fine), they complain before the Court of violation of their rights to freedom of thought and expression.
Kornilova v. Ukraine (no. 47283/14) - Communicated 10 December 2015. The applicant Jehovah Witness was assaulted during a door-to-door visit distributing invitation cards for a religious service. She complains under Articles 3, 9 and 14 that her allegations of ill-treatment on the grounds of her religion have not been properly investigated and examined by the domestic authorities.
Lachiri v. Belgium (no. 3413/09) - Communicated 9 October 2015. A Muslim woman complains that the decision of a magistrate of a court of appeals to exclude her from a courtroom when she refused to remove her hijab infringed her rights to freedom of thought, conscience, and religion.
Tsulukidze and Others v. Georgia (no. 14797/11) - Communicated 28 September 2015. Applicants, 16 Jehovah's Witnesses, complain under Articles 3 and 9 of the Convention taken separately and in conjunction with Article 14 about the religiously motivated violence to which they were subjected in Georgia and the relevant authorities' failure to prevent, stop or redress the alleged violations.
Vavřička, Novotná, Hornych, Brožík, Dubský, Roleček v. Czech Republic (nos. 47621/13, 3867/14, 73094/14, 19306/15, 19298/15, 43883/15) - Communicated 7 and 9 September 2015). Applicants (in six consolidated cases) complain that national legislation requiring vaccination of their children against poliomyelitis, hepatits B, and tetanus before they can be admitted to school is a violation of their private and family life as protected by Article 8 of the Convention, of their Article 9 rights to freedom of conscience, and their childrens' rights to education under Article 2 of Protocol 1. Some complain as well of lack of legal remedy (Article 6).
Tserkov Yevangelskikh Khristian-Baptistov and Panasenko v. Russia (no. 70090/10) - Communicated 28 August 2015). A registered religious organization and its presbyter complain that administrative offence proceedings against them for conducting Christian club meetings for children on Saturdays and Sundays disproportionately restricted their Article 9 rightsof freedom to manifest their religion/belief in teaching, as their activities did not fall within the scope of "educational activities", which required a State licence. The applicants also allege under Article 14 that they were treated differently as compared to numerous Orthodox organisations, which were permitted to carry out similar activities without a State licence.
Dakir v. Belgium (no. 4619/12) - Communicated 9 July 2015. A Muslim woman had chosen of her own will from age 16 to wear a niqab (veil covering her face except for the eyes) for religious purposes. She has always agreed to remove the veil for reasons of identification, as requested by authorities, notably for the issuance of an identity card. Invoking ECHR Articles 8, 9, and 10 taken alone and in combination with Article 14, she complains that the French prohibition of wearing the veil in public violates her rights to privacy, to manifest religious belief, and to freedom of expression, and discriminates against her in enjoyment of these rights. She further complains under Articles 6 § 1 and 13 that she lacks an effective remedy and access to courts in seeing redress.
Mockutė v. Lithuania (no. 66490/09) - Communicated 19 June 2015. The applicant asserts breaches of her Article 8 right to privacy and her Article 9 right to practice her religion resulting from incidents during her stay at a psychiatric hospital.
Belkacemi and Oussar v. Belgium (no. 37798/13) - Communicated 9 June 2015.Muslim women complain about the ban in Belgian law on wearing the full-face veil, as violation their rights to respect for private and; freedom of thought, conscience and religion; and prohibition of discrimination.
Klein, Nussbaum, Redeker, Gloeckner v. Germany (nos. 10138/11, 16687/11, 25359/11, 28919/11) - Communicated 8 June 2015.The applicants complain under ECHR Article 9 that the levying by German authorities of the Church tax and a special Church fee violated their freedom of religion. Three of the applicants complain under Article 14 taken in conjunction with Article 9 that the levying of the special Church tax was discriminatory against women.
Union des Familles en Europe v. France (no. 25317/13) - Communicated 21 May 2015.The applicant organization incorporated complains, relying on Articles 9 and 11, that its not being or desiring to become a member of the national union of families (UNAF), which precludes its participation in the economic, social, and environmental council (CESE), of which it would like to be a part, is a violation of the right not to join an association. Relying on Article 14 taken in conjunction with Article 11, the applicant complains of discrimination between family associations who, like them, choose not to join the UNAF, and those who choose to join resulting from the fact that only the latter have access to CESE, since UNAF has exclusive direct or indirect designation of representatives of family associations within it.
Muslim Board Startsevo v. Bulgaria (no. 41214/13) - Communicated 13 May 2015.The applicant organisation complains under Article 9 that its freedom to manifest its religion has been breached as the municipal authorities continuously prevented it from observing Muslim religion rituals when burying the dead in cemetery it has owned for over 100 years. The organisation also complains under Article 13 that it did not have an effective domestic remedy in respect of the alleged breach of Article 9.
Baydar v. Turkey (no. 25632/13) - Communicated 17 November 2014. The applicant is a conscientious objector to required military service.
A.S.R. v. Turkey (no. 60079/14) - Communicated 13 November 2014. The applicant converted to Christianity while living in Iran and complains that he is at risk of being returned to Iran.
L'Archidiocèse Catholique de Bucarest v. Romania (no. 3524/10) - Communicated 10 October 2014. The case concerns the construction of a tower next to a Catholic cathedral. The applicant claims that the tower's presence infringes on the freedom of religious practice of believers.
M.R. v. Netherlands (no. 60814/14) - Communicated 2 September 2014. The applicant is an Iranian national seeking asylum in the Netherlands. He claims that his return to Iran would put him in danger because of his conversion to Christianity.
Bektashi Community and Others v. Macedonia (no. 48044/10) - Communicated 25 August 2014. The Bektashi Community is a religious community in Macedonia which was denied official legal status. The applicants are complaining under Article 6 (right to a fair trial) as well as Articles 9, 11, and 14.
Stavropigijalen Manastir 'Sveti Jovan Zlatoust' and the Church of Real Orthodox Christians and Kiril v. Macedonia (nos. 52849/09 and 35700/11) - Communicated 25 August 2014. The two applicants are religious organizations which applied for registration but were refused. They are complaining under Articles 9 and 11 in conjunction with Article 14.
Fondation du Monastere Syriaque de Saint-Gabriel à Midyat v. Turkey (no. 61412/11) - Communicated 18 August 2014. The case is a property dispute involving a monastery in Turkey.
Samadov v. Azerbaijan (no. 48431/11) - Communicated 30 June 2014. The chairman of the Azerbaijan Islamic Party is appealing his arrest after giving a speech criticizing the government and the ban on wearing Islamic veils in schools.
Holmatova and Others v. Turkey (no. 14355/13) - Communicated 26 June 2014. An Uzbek family who fled religious persecution seeks asylum in Turkey and complains about the conditions of their conditions.
Karatayev v. Russia (no. 56109/07) - Communicated 17 June 2014. Newspaper publisher appeals criminal charges against an article about the history of the swastika in Hindu and early Slavic religious traditions.
Yehova'nin Şahitlerini Destekleme Derneği and Others v. Turquie (nos. 36915/10 and 8606/13) - Communicated 6 June 2014. Turkish Jehovah's Witness organization complains of discrimination and bureaucratic obstacles to establishing centers of worship.
Biserica Evanghelica Romana - Parohia Poenarii Burchii v. Romania (no. 44040/06) - Communicated 20 May 2014. A parish of the Romanian Evangelical Church complains of discrimination as to their burial rights
Oliari and Others v. Italy (nos. 18766/11 and 36030/11) and Orlandi and Others v. Italy (nos. 26431/12, 26742/12, 44057/12, 60088/12) - Communicated 12 March 2014. Same-sex marriage cases.